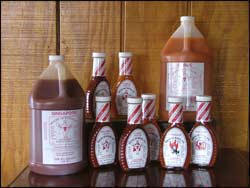 Simple Southern Buffalo Sauce
Buffalo Sauce is best known as a dipping sauce for chicken wings. Here in the south however, it is used for many different things. It can be used as a dipping sauce for any type of meat, as a marinade and even as a sandwich topping. This recipe for Simple Southern Buffalo Sauce was taught to me by my Grandmother and has been a family favorite for many years. What's great about this recipe is that it has only 5 ingredients, and it takes only twenty minutes to prepare. It's absolutely delicious, it's perfect for parties, and it's a surefire crowd pleaser. I have serve it at all of my barbecues and Superbowl parties for as long as I can remember, and people always ask me for the recipe, so here it is.
Ingredients:
1 – stick of unsalted butter, cubed
1 – 32 ounce jar of Texas Pete brand hot sauce
1 – 6 ounce can of Hunt's brand tomato paste
3 – Tsp sea salt ( optional )
1 – pinch garlic powder ( optional )
In a large saucepan, melt cubed butter over medium heat. When the butter has melted, slowly pour in the Texas Pete brand hot sauce, and raise the heat to medium high. Next, add the Hunts brand tomato paste. Allow the mixture to simmer, stirring occasionally until the tomato paste melts down and incorporates, approximately twenty minutes. Add salt and garlic powder to taste.
Suggested use: Serve as a dipping sauce for chicken wings or strips, alongside celery and carrot sticks, accompanied by ranch or bleu cheese dressing.
Serves approximately 16 – 20 people, depending on what you use it for (chicken wings, sandwiches, marinade,etc.)
Any leftover sauce may be kept in a closed container in the refrigerator for up to three weeks.
Source:
1. Homemade Buffalo Sauce Recipe – Add a Pinch
2. Cantaloupe Benefits & Nutrition Facts
3. Buffalo Sauce – 15 Foods You HAVE To Try With Buffalo Sauce

Image Credit
www.houseofwings.com