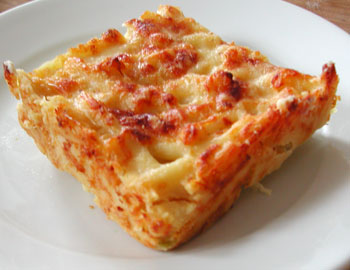 I do not know why but this dish is a hit very time. No matter if you are young or old there is some thing about Macaroni cheese that is so satisfying that you always come back for more. There are many versions of this and all of them are more or less the same but this is the one that I recommend to you.
You will need
250g/9oz short cut macaroni
50g/2oz butter
50g/20z plane flour
600ml/1pt full fat milk
100ml/3½floz double cream
100ml/3½floz dry white wine
50g/2oz strong farm house cheddar cheese
75g/2½oz mozzarella cheese
75g/2½oz parmesan cheese
Salt, fresh ground pepper and pinch of nutmeg to taste
10 to 12 cherry tomatoes
1 small onion
1 bay leaf
1 pepper corn
Take your pasta and blanch in a pan of boiling salted water. Do not cook all the way threw. What you are looking for in this pasta is a fine white line threw the middle of the pasta where it has not cooked. Do not worry you will cook the pasta more as you bake it but if you cook it all the way now it will be over cooked latter. Once it is cooked get it in to some cold running water and stop it from cooking any more. Then drain of the water and allow to cool on the side as you make the sauce.
The sauce is just a simple mornay or cheese sauce. Take you milk and place that on a low heat and in to the milk add the small onion cut in half the bay leaf and pepper corn. Allow the flavors of infuse in to the milk as it heat up and then take of the heat and place to one side.
Now take a thick bottomed pan and put that on a low heat and add the butter. Allow the butter to melt slowly and then add the flour a little at a time. Working the flour and the butter together in to a nice golden paste. Now a little at a time add the milk through a sieve, you do not want the onion bay leaf or pepper corn to get in to the sauce. As you add the milk use a whisk to incorporate the milk and the paste together till you end up with a good thick sauce.
Now add you white wine cheddar cheese and mozzarella and cook till the cheese has melted in to the sauce and finally finish with the cream. Season with salt pepper and a little nutmeg to you taste.
Now take your pasta and place that in a deep sided oven proof dish. Take to sauce wile it is still hot and pour that over the pasta making sure that it all gets covered. Now sprinkle over the Parmesan cheese and just work it in to the pasta with a spoon, you do not want it all on the top as it will form a crust. Finley scatter your cherry tomatoes over the top and bake in the oven for about 15 to 20 minutes. If you do not like tomatoes you can leave them off. But they do add a little sharp notes to the rich creamy texture of the macaroni cheese.
Remove from the oven when the top is going golden and the tomatoes have all cooked in to the sauce. And then eat hot with a side salad and some garlic bread, no matter what time of year always a winner.
Source:
1. Macaroni and cheese
2. NutriSystem Cost
3. Macaroni and Cheese Recipe : Ree Drummond : Food Network

Image Credit
www.justhungry.com